As moms trying to feed our families, we put a lot of pressure on ourselves to provide homemade meals and not rely on prepared box dinners. I was talking with my sister about this the other week and we both agreed that having grown up with a mother who is an amazing cook, we were used to having meals made from scratch. I don't recall having boxes of mac 'n cheese in our house. Ever. So as adults, we both strive to provide these same homemade experiences to our own children.
With today's busy schedules – work, daycare, sports practices, homework, volunteerism – sometimes homemade is just not possible. And you know what I've finally come to decide? That it is okay.
This past week I added a jar of pasta sauce to sautéed chicken, topped that on some Country Pasta, and added frozen veggies and garlic bread to the side. It was hearty, healthy, and most importantly for that night, a fast meal for my hungry family.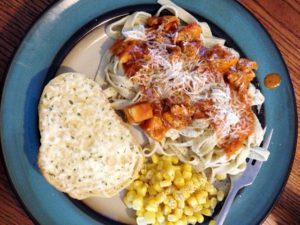 We are proud that Country Pasta is so versatile that it can be used as a quick go-to meal to fill hungry bellies on a busy night, or as a leisurely prepared Sunday supper.
We know many dads help with the dinner duties as well, but with Mother's Day this weekend we have all you busy moms on our minds. And we salute you for all the work you do to provide healthy meals for your families. Just remember to give yourselves a break sometimes and reach for the jar. It's okay.
Wishing you a relaxing and enjoyable Mother's Day!
Heather