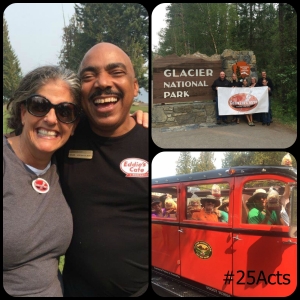 This week, for our 13th Act of Kindness, we gave away over 360 bags of Country Pasta to visitors of Glacier National Park. One of the things we love about where we live is our proximity to Glacier Park, so it seemed only fitting to include the Park in our Acts of Kindness somehow. We chose August 25th because the National Parks were celebrating their 100th Birthday, and Glacier specifically celebrated 99 years as an official National Park.
To say we had a good time would be an understatement. We met folks from at least 30 states and 8 different countries! We were warmly welcomed by the Park staff. We enjoyed ice cream. One of us went swimming. Two of us juggled pasta. We shared our own National Park stories. One of us ran into a server they had met while vacationing in the Virgin Islands! We met new friends. We had a picnic lunch. We had many laughs. And through all of this, we still get to call this "work."
Throughout this year I continue to feel deep appreciation for the many customers we have who make this all possible. This year and our 25 Acts of Kindness are our way of giving back to each of you. We thank you, and we look forward to continuing to share our appreciation.
Best,